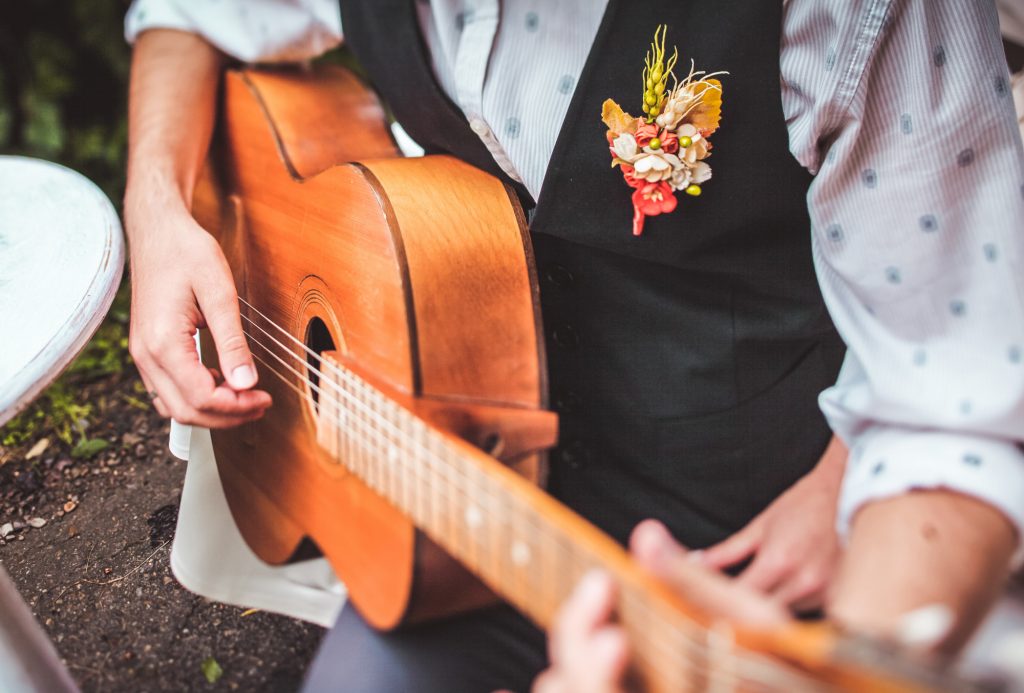 What do you think when you hear the phrase 90s music?
The songs of Mariah Carey, perhaps? The global success of R&B music, maybe?
It's important to remember that the 90s also saw some outstanding Christian songs step onto the scene.
If you're struggling to put together a playlist 90s Christian songs for your wedding, then you're in luck.
Read below for our awesome list of Christian songs for weddings. You deserve the right to dance and worship at the same time on your special day.
1. Awesome God by Rich Mullins
The catchy lyrics of "Our God is an Awesome God, he reigns from Heaven above" will get the whole crowd dancing and singing.
If that's what you want, then you've got to include this number in your wedding playlist.
Your wedding is never complete with the joyful and celebratory words of Rich Mullins. He was described as "the uneasy conscience of Christian music" by Amy Grant.
2. Sometimes By Step by Rich Mullins
A second by Mullins is the other famous song called "Sometimes by Step." This song shows his appreciation for the Irish tradition of music.
This is also a great choice for your "first dance" together as man and wife. A much more gentle and calm feel to the song.
Still, the memorable chorus stays with you. "Oh God, you are my God and I will ever praise you."
3. Solid As the Rock by Michael English
The art throb Michael English released his Album featuring the song "Solid as the Rock" in 1991.
He subsequently was awarded the title "New Artist of the Year." This song gives everyone a reminder of how Christians are strengthened by their faith.
As the lyrics go: "Our faith has made us solid" couldn't be truer.
4. Saving Grace by Point of Grace
Do you want some female vocals?
Of course, Tom Petty's Saving Grace is wonderful. Mariah Carey's version is a fantastic hit.
Buy, the underrated "Saving Grace" by Point of Grace is a beautiful song for your wedding playlist.
5. That's What Love is for by Amy Grant
This 1991 single by Amy Grant was number one in the US for three weeks.
There are only a few songs which can bring a tear to your eye quite like this one.
It's just a shame you can't show the music video. The scenes of Amy Grant dancing with the glorious red dress are wonderful.
6. Dive by Steven Curtis Chapman
Jumping from the early 90s to the late 90s with Dive by Steven Curtis Chapman.
The strange electronic beats may not be for oldies at your wedding. But, the lyrics are sure to bring everyone together.
After all, the "dive" Chapman is referring to in the title of the song is the leap of faith in God.
7. Flood by Jars of Clay
The 1995 release of Flood was the breakthrough hit for the Christian rock band Jars of Clay.
The song also plays during the closing sequence of the movie Hard Rain, which features Morgan Freeman and Christian Slater.
Flood probably has some of the best guitar of any song of the same period Christian or otherwise.
8. Testify to Love by Avalon
The vocal quartet Avalon has produced numerous beautiful songs to remind us of the grace of God.
However, Testify to Love is surely the best of them all. The song reminds us that Christianity is all about love.
These lyrics are incredible:
For as long as I shall live
I will testify to love
I'll be a witness in the silences
When words are not enough
With every breath I take
I will give thanks to God above
For as long as I shall live
I will testify to love
You've got to include this in your 90s Christian song playlist.
9. On My Knees by Jaci Velasquez
On My Knees is Jaci Velasquez most famous song. You only need to listen to a few seconds to realize why this song means so much to so many people.
While the song is definitely uplifting, it's worthy of a slow dance at your wedding party.
10. Jesus Freak by dc Talk
Jesus Freak is a little more divisive than the sweet melodies of Jaci Velasquez's songs. But, this is Christian rap and rock combo at its best.
You shouldn't neglect the genius lyrics of dc Talk, who have a bunch of vibrant and energy boosting songs.
11. Crucified With Christ by Phillips, Craig, and Dean
Crucified with Christ is an inspirational song which is written and sang by the pastor trio Randy Phillips, Shawn Craig, and Dan Dean.
There is a richness to the songs which is rarely found in 90s music. You'll find that the lyrics are as deep in Christian theology as they are beautiful.
12. My Deliverer by Rich Mullins
The final Christian song on our list is My Deliverer. This is yet another song from the 90s by Rich Mullins.
The song is about someone who gives praise to God every day. As the lyrics go: "every moment I will give you praise."
As always, Mullins sings this one beautifully. It would improve any wedding playlist.
Christian Songs for Weddings
It's clear that 90s music was an amazing time for contemporary Christian music. With our list of Christian songs for weddings, you've got plenty to choose from for your special day.
If you haven't quite found someone to marry yet, you may want to know about how to approach dating as a Christian. Check out our blog for tips.