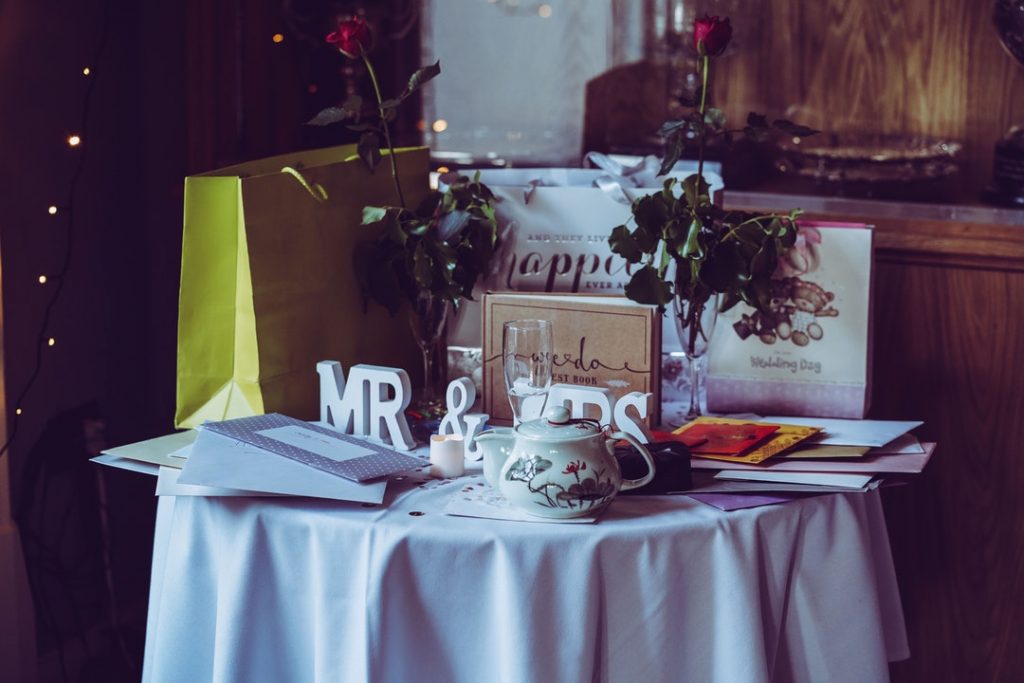 Did you know an average of 2.4 million weddings take place in the U.S. every year? Among that number, 33% take place in a religious institution such as a Christian Church.
Despite these statistics, marriage still stands as an important day for couples. In such moments, you might be hitting a dead end when thinking of wedding gift ideas.
Worry not as we have a few suggestions that you can choose and give to the newlyweds. Here are some suggestions for Christian wedding gifts that you can give at or before the wedding.
1. Marriage Takes Three
One of the wedding gift ideas that would be both thoughtful and insightful comes in the form of this beautiful silver tabletop figure. It's one among many gifts inspired by the classic poem "Marriage Takes Three". It inspires a lot of believers with its message of including God in your marriage.
Made with high-quality resin, it comes with a silver finish to give it this wonderful sheen. This makes the ornament look great on any tabletop or shelf.
It also comes with a solid pedestal base to keep it upright without issue. This works well as either a wedding gift or as a shower gift before the actual celebration.
2. The Cord of Three Strands
Another one that comes along the same concept and idea with the gift earlier is the Cord of Three Strands. This wedding gift works well when given before the actual celebration.
You can also have this incorporated in the ceremony. This way, it adds more weight in its sentimental value.
The Cord of Three Strands unity braid comes in a variety of colors. Each one representing the bride, the groom, and God. This symbolic gift works both as a memento of that wonderful day, as well as they promise sworn before God.
3. One Year Love Language Minute Devotional
Wondering what other gifts you can give aside from tokens and keepsakes? You can also go with giving books and devotional guides as meaningful wedding gifts.
For instance, try the One Year Love Language Minute Devotional by Gary Chapman. It's an excellent choice to give as a gift.
This devotional sold over 250,000 copies, making it a bonafide best-seller. Working as a guide to go with daily devotionals, it helps couples both new and seasoned to look into how they would fare with exercising their love languages.
With this gift, you can make use of these love languages to uplift and help each other grow.
4. Love is Patient and Kind Throw Blanket
Having a visual reminder of what love is can be pretty handy in marriage. This wedding gift can take many forms, like how this one went for the throw blanket.
Measuring at 70 x 38.5 inches, this throw blanket holds a rustic look. It also has fine calligraphy as it points out the first few words on love, as seen in 1 Corinthians 13:4.
Not only that, but it also has a wide variety of uses. You can go with having it as either a piece of décor or tapestry. Or if the day feels chilly, you can use it as a blanket to bundle up with.
This might present great ways to exercise the definitions of love.
5. 100 Ways to Love your Husband/Wife
For our next entry in our list of Christian wedding gift ideas comes another book. In this case, it would be a pair of books with each covering one aspect of the topic.
100 Ways to Love holds fresh insight into marriage on both halves. It comes with practical ideas for loving each other well. It also helps in the pursuit of intimacy, kindness, friendship, and full appreciation of this newfound committed love.
This pair of books is a fitting gift for newlyweds. Better get them as a bundle to cover both fronts of marriage.
6. Pray Book Ends
How about another idea that goes well with a collection of books? For something decorative and also a tangible reminder for prayer, this set of bookends works well for the newlyweds.
Made with resin stoneware, the craftsmanship of the bookends show skilled work and handling. This becomes evident in the attention to detail given on those bookends.
Consider getting this as a gift not only to work as an addition to their trove but by also acting as a reminder to pray every single day.
7. 10 Ways to Love Bible Verse Frame
As gifts, picture frames work well in keeping memorable images on display in any part of your home. Now with this new chapter in a newlywed's life, how about a frame that also speaks of love?
This is the exact train of thought that runs with a wooden frame. Lining the wooden picture frame with wonderful verses that show the 10 ways to love. This frame works well as a great addition to the new home the newlyweds would establish.
Aside from knowing how to love each other, also check out these good reasons to read the Bible.
8. Kingdom Marriage
When it comes to meaningful wedding gifts, books are never out of fashion. Giving books that can aid the newlyweds with this new chapter in their lives shows how you value wisdom as much as love.
With this bestseller by Tony Evans, Kingdom Marriage holds a wide range of practical advice and insightful instructions perfect for couples.
You can pair this book with other great titles like Sacred Marriage, Love and Respect, and The Meaning of Marriage. They all work together to help newlyweds keep Christ in the family while also teaching how to work their differences and build their strengths as a couple.
Get the Best Christian Wedding Gifts Today!
Found interesting ideas for great Christian wedding gifts with our list? Don't hesitate to give them a try!
These gifts show that you care and that you hold the couple accountable. Even in simple gestures, this moment of celebration is always with the couple and God.
Show your love and support through your gifts and your presence.
Do you need help with website hosting for your Church, we can gladly help you with that. To get started, contact us today.