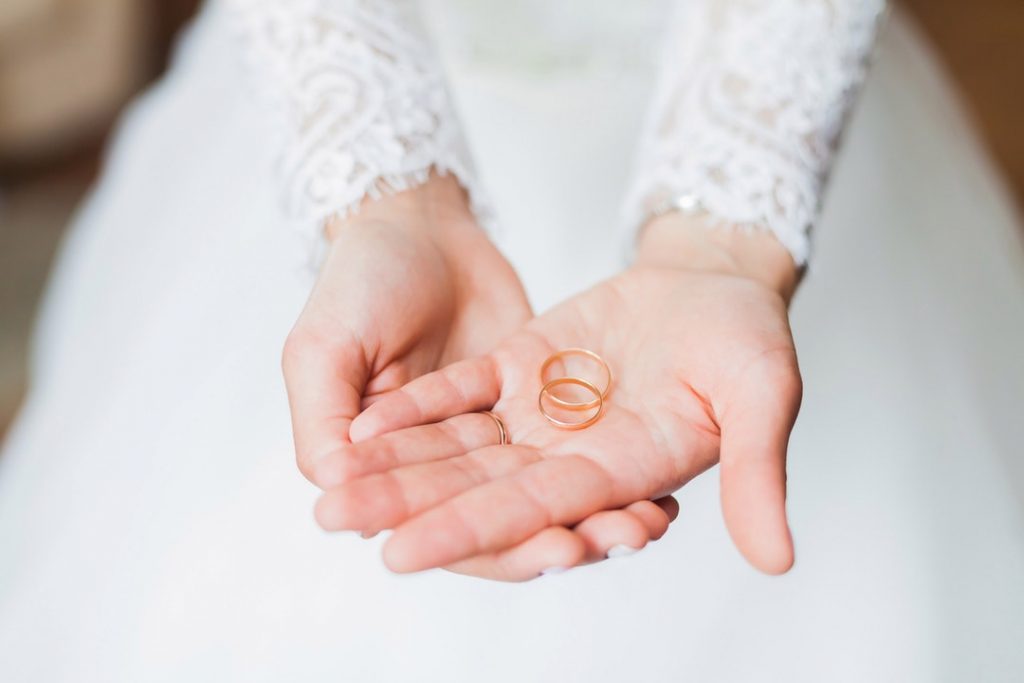 You've found the love of your life and you're thrilled to be marrying them in your church. You want your wedding to be one for the record books. Where do you start?
If you want your wedding to be a show-stopper, you want to set the tone of excellence from the start. This begins with beautiful Christian wedding invitations.
To make yours stand out from the crowd, try these ideas.
Ideas for Christian Wedding Invitations
Whether you're going for budget-friendly DIY invitations or high-end professional ones, use these ideas to make them one-of-a-kind.
1. Mixed Materials
Who said an invitation has to be a single piece of cardstock? One of the best ways to grab a guest's attention is by combining a variety of textures.
One popular choice is to have a sheer piece of paper on top of your cardstock invitation. The sheer sheet can be plain or it can have its own design. For instance, consider an image of a cross.
Another easy way to add texture to your invitation is with a ribbon. A ribbon tied in a bow can give your invitations a classy touch.
2. Show Off Your Theme
Every wedding should have a theme. Maybe it's a well-rounded theme like a rustic wedding or it could be a simple color theme. Either way, it should reflect who you and your fiance are as a couple.
When you've chosen your theme, make sure your invitation fits in. For example, you might use a gingham ribbon on an invitation for a rustic wedding.
This serves a few purposes. First, it gives your guests a taste of what to expect at your wedding. Second, it makes for better wedding pictures. Your photographer can arrange your invitation with your flowers, table settings, or other decor.
3. Add a Bible Verse
If your Christian faith will play a strong role in your wedding, you want to highlight it on your invitations. What better way to do this than with a Bible verse?
Choose your favorite verse that coordinates with your wedding. Subjects like marriage, love, or unity offer plenty of choices.
Your verse could make a beautiful header at the top of your invitations. If you prefer, you can print it on a sheer piece of paper to add more texture and dimension.
4. Consider a Custom Font
Designing your own invitations and having trouble coming up with a font you like? It's a difficult choice because your font needs to embody your style while being easy to read.
If you're struggling, hire a calligrapher or artist. They can write out the wording you want in a customized font.
If you want a personal touch and you have the budget for it, your artist can hand-write that custom font on every invitation. This is pricey, though. You could turn their artwork into an image instead and put it into your design.
We have a few cautionary tips, though. First, if you have an ornate font, use it as an accent. Write your names in this font but put all the other information in clear, plain type.
Before you print your final invitations, make sure they're readable. Hand them to someone who doesn't know what they're supposed to say and see how easy they are to read.
5. Coordinate Your Stationary
For most couples, you'll use several types of stationary leading up to the wedding. On top of an invitation you may have a "save the date," an RSVP card, a card with venue directions, and more.
Create a cohesive style by coordinating all these pieces together. They don't have to be identical but they should have the same design elements and colors.
For instance, let's say your invitations have a row of blue flowers on them. Add a small cluster of these flowers in the corner of your RSVP card and directions card.
6. Make It Picture Perfect
If you want your wedding invitation to look unique and personal, there's nothing more personal than a photo of you.
A picture of you and your fiance will make your guests feel more connected to your wedding from the start. If you're already planning to have an engagement photo session, this is a perfect way to use the photos.
How do you add a picture without making it overpower your text, though? There are a few options.
Try making your photo partially transparent and using it as the background for your invitation. Your text will appear on top of the photo.
You can use the "sheer paper on top of the invitation" trick too. Either put the photo on the cardstock with the wedding details on the sheer page or vice versa.
7. Less is More
The more text you have on your invitation, the more it will overpower your design. Stick with the essentials.
You don't need to include all the details your guests need on the invitation. For information like the dress code and directions to your venue, use a modern couple's best friend: a wedding website.
Make sure you include your wedding website's URL on your invitation so guests know where to go. If you want to make sure they see it, set it up so that the only way for guests to RSVP is through your website.
You do have the option of including all this extra information on additional cards in your invitation envelope. However, this is more expensive and it's less eco-friendly.
Starting Your Wedding on the Right Foot
Your wedding is an opportunity for you and your fiance to celebrate your marriage with all your most beloved friends and family members. As well as they know you, they don't know what to expect from your wedding until your invitations arrive.
The design ideas above for Christian wedding invitations will let you put your faith forward and bring your loved ones into your special day.
If you want to coordinate your invitations with your wedding website, get started with Christan web hosting today.