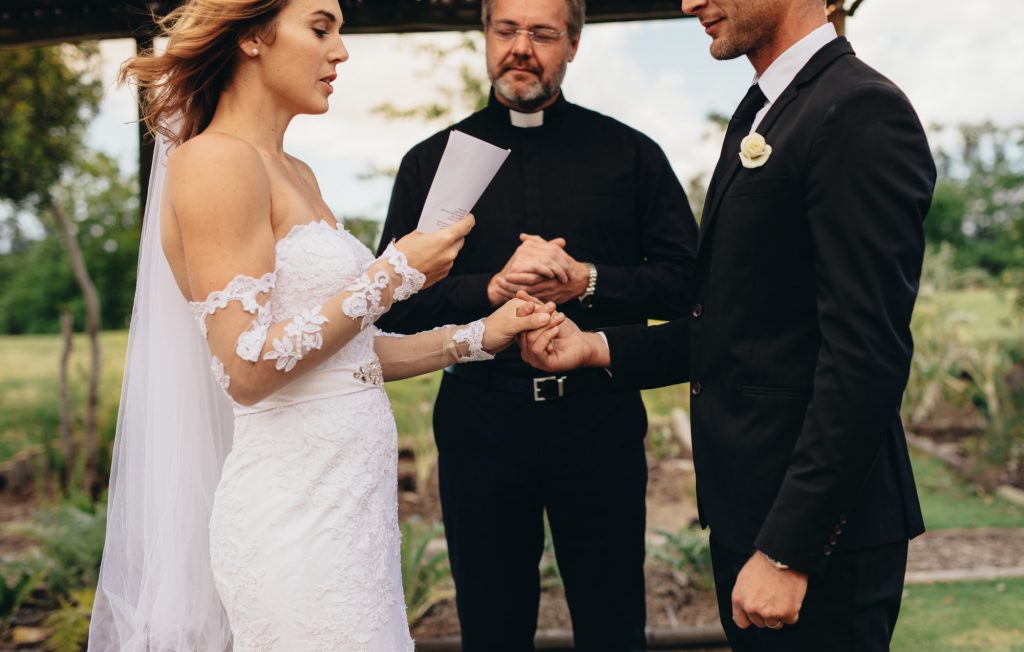 It's not every day you get to marry the love of your life. In fact, that day is one of the most significant days of your life.
Still, you know that there are a lot of details to consider when it comes to planning an entire wedding. In fact, that's why the average wedding in the United States these days costs over $33,000. Remember the one ultimate goal, though: you and your partner are celebrating your love with friends and family.
That's why it's so important to you that your wedding vows are genuine and meaningful. Vows are a crucial part of any wedding ceremony. These promises, after all, are for life.
Make sure you get your own wedding vows perfect, then. This is your chance to declare your love to the world and God. For inspiration, keep reading to learn ten tips on writing your ideal Christian wedding vows.
1. First, of Course, Remember Your Faith
So far, you've successfully done your research on dating as a Christian. You're ready to take the next step with your fellow Christian partner by declaring your love through marriage in front of all your loved ones.
You know that your relationship with God was and is your first love. The first tip when it comes to writing your wedding vows, then, is to remember and prioritize your faith every step of the way.
2. Quoting the Bible Is Great for Christian Wedding Vows
This might be an obvious tip for someone writing wedding vows for a Christian ceremony. Still, it's an essential one to mention.
Since your faith is such a big part of the entire event, don't be afraid to quote a Bible scripture or two! There are plenty of worthy, beautiful passages about love and marriage to choose from.
3. Don't Be Afraid To Cry!
It's one thing to write beautiful wedding vows. Declaring them in front of all your beloved family members, friends, and future spouse, though, is something else altogether.
Many people find themselves pretty sentimental at the altar. if you find yourself tearing up as you start reciting your vows, don't worry. It's okay to express your emotions on this special day!
4. Practice Makes Perfect
Of course, that doesn't mean you should just "wing it" when it comes to presenting the wedding vows you've written. That's why it's recommended you practice reciting them a couple of times before the actual ceremony. Then, when your moment finally arrives, you'll be able to declare your love proudly for all to hear.
5. Staying Confident During the Ceremony Is Key
Confidence, after all, is one of the most necessary tips to remember when it comes to both writing and reciting your wedding vows. This is your chance to make it clear that your decision to marry this person is a reason to celebrate.
In other words, this is yet another reason it's so crucial to take writing your wedding vows seriously. If you don't feel comfortable with every line you write, take the time to keep making edits. At some point, you'll find the right words to say.
6. It's Okay If It Seems Corny
Don't make the mistake of feeling embarrassed about anything you write in your wedding vows! Love can seem corny sometimes. That's why the previous tip about confidence, then, is such an important one to remember.
7. Be Willing To Ask for a Second Opinion
When you've drafted a version of your wedding vows that you're comfortable with, don't be afraid to recite it in front of someone else. Ask to do so for someone you trust to give you honest feedback, in particular, though.
8. Don't Mention Anything About Wedding Costs
There's a common mistake that many have made during their wedding vows. Joking about the cost of your own wedding. Of course, it's your own right. It's a good idea, though, to avoid doing so during the wedding vows at the very least.
It's an unfortunate truth that the United States spent about $80 billion in the wedding services industry in the year 2018 alone. It's no secret that weddings just cost too much money these days. Still, focus your attention on the beautiful aspects of the ceremony—not the costs.
9. Don't Embarrass or Insult Anyone
Speaking of topics that are off-limits, don't get too carried away with any jokes in your wedding vows. It can be easy to offend someone without realizing it, so don't take such chances during such a special moment.
10. No Matter What, Speak from Your Heart
As mentioned above, the ultimate point of this wedding ceremony is to dedicate your life to a partner you love and trust. As a responsible Christian, you want to do so with respect to your faith in God. That means that being honest and speaking with genuine reverence to your words is the best tip you can remember when writing your wedding vows.
Continue Investing in Your Christian Faith
At this point in the article, you should have a pretty good idea of the best ways to write your Christian wedding vows. It's important for both your partner and the wedding ceremony itself.
Don't underestimate how crucial it is to be genuine when you say your wedding vows. Take the time to really think about what you want to say, and be bold about it.
This is your opportunity to make promises to your new partner that last throughout your new life together. What are the most important promises you want to make to him or her? What values do you want to prioritize when you're writing these vows?
Well, that's why you should remember Christianity when writing those vows. Faith is going to be a foundational part of your future relationship, right? Investing in faith-based resources on a consistent basis, then, is only a good idea.
That's why we're here to offer useful and encouraging Christian materials for people like you. We encourage you to check out the rest of our website. To start, read this article on Bible scriptures that will encourage your walk with God now and in the future.