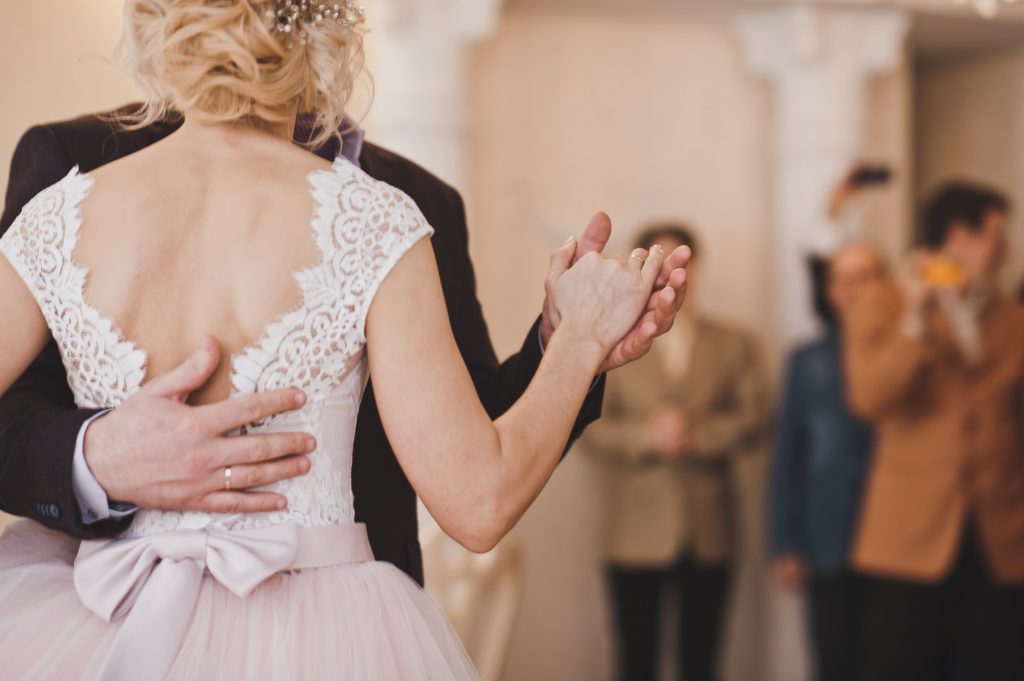 For people of many faiths, marriage is a gift from God. The Christian faith celebrates marriage as a divine institution given to the people by God.
The institution of marriage celebrates God's love for all His children.
Are you entering into a Christian marriage? Let your love and God's shine through with the perfect Christian wedding songs.
The music at your reception should reflect your Christian values and love. Much of today's music celebrates the darker side of life. But you can play pop and rock without sending a bad message.
Get your friends off their feet and dancing at the reception with these 8 modern Christian wedding songs.
Christian Rock Songs
Christian rock is a popular form of modern music. It combines the rhythm and instrumentals that make rock music popular. But it comes without the coarse and suggestive lyrics of much of today's rock music.
There are lots of great Christian rock artists, so there's a lot to choose from.
Christian Pop Music Songs
Pop means popular. So remember, these songs are for the reception, not the ceremony! There is lots of modern music that works well for the ceremony too.
Modern pop music features short songs with a strong beat. The lyrics are easy to remember and sing and this is what makes the music popular.
Christian pop is similar. But like Christian rock, it comes without the coarse lyrics popular in much of mainstream pop culture.
Like Christian rock music, there are lots of great artists and songs from which to choose.
Christian Country Music
Some of America's greatest country singers are also Christian. Think Dolly Parton or Carrie Underwood! There are some fun-loving, fun-dancing tunes that are appropriate for a Christian wedding.
Some of the newer country-pop crossovers have lyrics you might not want at your wedding. Make sure you listen closely to the words before including any song at your reception.
Without further ado, here are eight great songs for your reception…
1. Cinderella
This charming Christian pop song by Steven Curtis Chapman is a classic for the father-daughter dance.
It's a sweet song about a father's relationship with his daughter through the years. He dances with her as a child at the "ball." Then he helps her practice dancing for a date with a boy she likes.
The end of the song has the father and daughter dancing together in preparation for her wedding.
Be warned! There might not be any dry eyes at the reception after this daddy-daughter dance.
2. I Choose You – The Wedding Song
This pop song by Ryann Darling is a beautiful ballad to the love of your life. The lyrics are a beautiful Christian reflection on choosing a husband, but also choosing God.
The song is a testament to choosing each other, choosing God, and staying the course for "a hundred lifetimes."
You can't go wrong with this song for the First Dance for the bride and groom.
3. Write Your Story
This pop song by Francesca Battistelli gets everyone up on their feet. The catchy beat makes for a great dance tune.
The artist makes clever use of words straight from the Bible. She sings about God as the author of her story. She wants her story to be a legacy to God.
It's a fun pop song your guests will love hitting the floor for.
4. Love Can Save It All
This pop song by Andra carries a deeper message. It's about sticking with your partner "for better or for worse." That's a message your guests can get behind at your reception!
It's nice when a serious message is wrapped in such upbeat music. This ballad-y pop tune is perfect for a wedding reception!
5. For Those Who Wait
This is a raw Christian rock song by Fireflight. It's about struggle, purpose, and making it through with the help of God's love.
It's the perfect song to get your guests dancing! And the message is a good one. Keep fighting through and "…know there is a purpose for those who wait."
6. Love Never Fails
This pretty little song by Brandon Heath is perfect for the couples at your reception. You've got a have a few slower songs!
This is a simple song celebrating the many virtues of love. And you'll love it too! "Love is not proud, love does not boast, love after all, matters the most of all…"
7. Multiplied
This NEEDTOBREATHE rock tune is great for a wedding since it's about surrendering to God's mercy and love.
You'll tap your feet to a great backbeat and sing along to the catchy tune. Enjoy the upbeat bridge in the middle that circles back to the chorus. T
Your guests will love this song.
8. I Can Only Imagine
This popular song by Christian country band MercyMe is sure to be a hit at your wedding.
The song was written by band member Bart Millard. He said it only took about 10 minutes to write as if he was watching someone else write it. He wrote the song about his dad after he died of cancer.
Millard's father assured his son he was going to a better place when he died. Millard kept telling himself, "I can only imagine," after his father was gone. Those words were a mantra that led to his hit song.
Most of your guests will know this beloved tune!
Great Christian Wedding Songs for Your Reception
Your wedding is one of the most memorable days of your life. It's a beautiful time to live your Christian values through the music you choose for your reception.
Don't let your beautiful Christian day be marred by music filled with inappropriate lyrics and lewd suggestions. There are so many Christian wedding songs to choose from.
Pick the perfect songs for the First Kiss, First Dance, Cake Cutting and more! And rest knowing you've picked music that celebrates not only your love but God's love too.
Don't forget to run the music by your pastor. Some churches have strict rules when it comes to the music allowed inside the church.
Are you looking for more articles with good Christian advice? Peruse our blog here!